GRILLED CEDAR PLANK SALMON
This is one of our favourite ways to prepare salmon. It's great in the summer, but winter weather has never stopped us from making it either (it's what you do when you live in Canada!)! Most important thing to remember is to soak cedar plank ahead of time. When salmon is grilled on top of it, it stays very tender and juicy. Heat from the grill makes wood smoulder and smoke, it's what gives salmon most delicious, aromatic, smoky flavour and beautiful colour. It's a great recipe to make when you are feeding a crowd. Few simple sides like salad, grilled vegetables and steamed rice and you have a winning meal.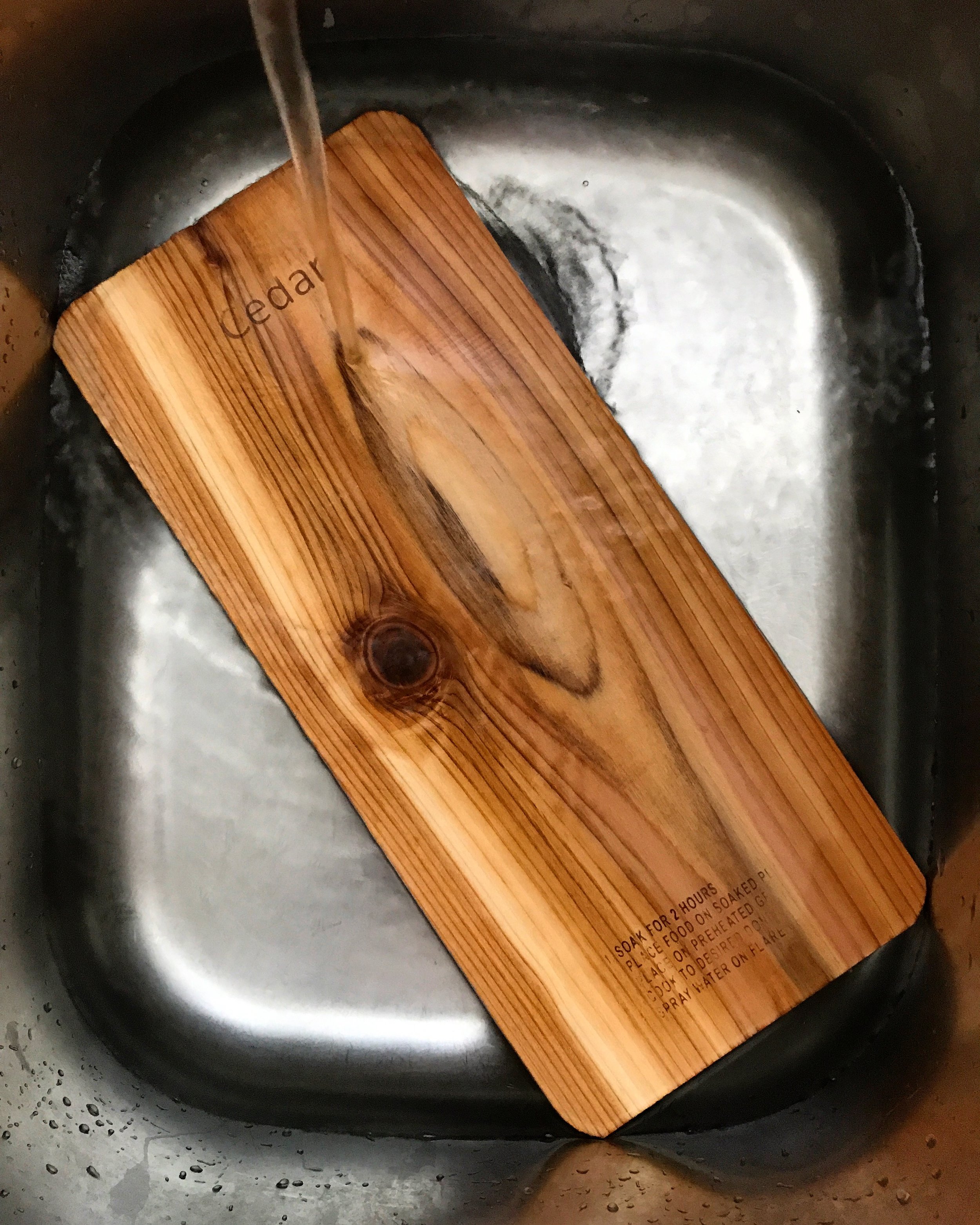 1 (about 2 pounds) salmon fillet with skin
3 cloves garlic, chopped
2 tablespoons grainy mustard
1 tablespoon Worcestershire sauce
1 tablespoon maple syrup
zest of 1 lemon
lemon juice from 1/2 large lemon
salt
freshly ground black pepper
chopped herbs (I used parsley and fennel, but dill, rosemary, chives, tarragon, basil or thyme work also)
Cedar plank (available at many grocery stores, big box stores or online - make sure it is food safe and not treated!)
Soak cedar plank in water anywhere from 1 to 3 hours, depending on thickness. Weigh it down with any heavy object like a pot, a couple of cans or a bottle of wine you may want to serve alongside!
Prepare grill by turning it on high for 15 to 20 minutes.
Meanwhile, stir together garlic, mustard, Worcestershire, maple syrup, lemon zest, chopped herbs and black pepper in a bowl and spread it over the top of salmon. Let it marinate for at least 15 minutes or up to an hour.
When you are ready to grill, place cedar plank on the grate, lower the temperature to medium and let the plank get hot and just starting to smoke (about 5 minutes) - it will smell amazing!
Squeeze lemon juice over the salmon and sprinkle with salt.
Lay salmon, skin side down, on cedar plank, cover the grill and cook for about 20 minutes or until salmon flakes easily and the thickest part is warm if you pierce it with a tip of a knife. You don't want it to be dry! While cooking, check the plank occasionally, if the edges catch fire, spray it with water.
Carefully transfer salmon, along with the plank, onto a serving tray. Let salmon rest for 5 minutes before serving.