PIZZA WITH PROSCIUTTO
I do have many favourite foods and pizza is definitely high on that list. And how can it not be? With lovely crust, bright tomato sauce, mozzarella, prosciutto, some fresh basil and it's pretty much perfection! The simpler, the better. My kids prefer Margherita (tomato sauce, mozzarella, basil), while my husband's favourite includes anchovies, capers and pecorino. I mean, what other food can be so easily personalized to please everyone? If you want make your own dough it requires a bit more time, but to make your life easier and your crowd fed faster, there are some great doughs out there ready to purchase.
store bough pizza dough, or if you are making your own:
PIZZA DOUGH (makes 4 pizzas):
3 cups 00 flour
3/4 cup semolina flour
1 1/2 teaspoons dry yeast
3/4 teaspoon salt
2 tablespoons olive oil
1 1/2 cups warm water
TOPPINGS (per pizza)
2-3 thin slices prosciutto, torn in large strips
1/2 cup (or more if you wish) tomato sauce - recipe below
mozzarella, sliced (the one stored in brine not the hard one)
2 tablespoons grated parmigiano
fresh basil
olive oil
salt
pepper
TOMATO SAUCE
1 can imported San Marzano tomatoes
olive oil
3 garlic cloves, peeled and halved
salt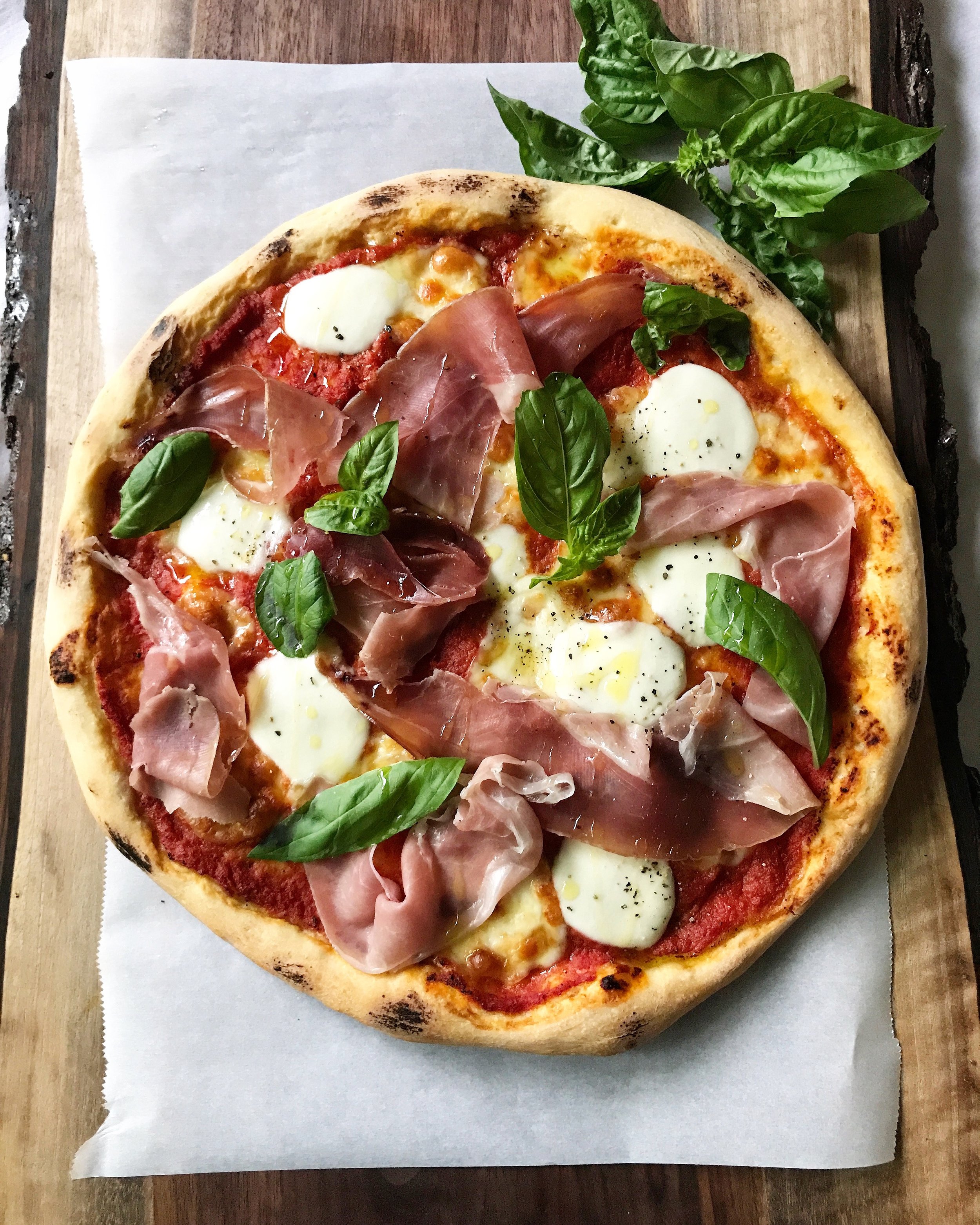 For tomato sauce, heat olive oil in sauté pan together with garlic cloves, making sure that garlic doesn't burn. Add tomatoes and break them up with wooden spoon. Add salt to taste, then cook on medium heat for about 10 minutes, stirring often, until most of the thin liquid is evaporated. Cool before using.
For the dough, place flour in a bowl. Make a well in the centre.
In separate cup, dissolve the yeast in 1/4 cup water (taken from 1 1/2 cups). When ready, add it to the flour. Mix, then add another 3/4 cup of water, salt and olive oil. Mix again. Add the last bit of water slowly, mixing, to make a soft ball of dough that is a bit tacky, but not sticking to your fingers - you may not need all of the water.
Place the dough onto clean surface. Knead for about 8-10 minutes, until smooth and soft.
Oil the inside of a bowl and put in the dough. Cover with plastic wrap and let the dough rise in a warm place for 1 1/2 to 2 hours, or until it doubles in size (it can also sit longer).
Before you are ready to bake the pizza, preheat the oven to 500F.
Divide your dough in half, then half again. Keep the rest covered with plastic wrap while working with one piece. (if not using all of it, wrap tightly and freeze)
Oil baking sheet.
Flour your surface and flatten the dough into a round with your fingers (or roll it out and then flatten with your fingers). Place on prepared oiled baking sheet and finish to stretch it out as thin as you can, leaving a thicker edge all around.
Top with tomato sauce and a sprinkle of olive oil.
Bake pizza for about 15 minutes (check it at 10 minutes time), then take it out and quickly top with mozzarella slices and grated parmigiano. Place back in the oven for additional 5 minutes until the cheese is melted.
Take pizza out of the oven, lay prosciutto slices over it, spread fresh torn basil over the top and give it a final drizzle of olive oil.