BLOOD ORANGE CAKE
I love all oranges, but get really excited when blood oranges start to appear in the stores. Besides eating them "straight up", I am always looking for other ways to use them before their season is over.
This is a delicious cake that really showcases their beauty and flavour since it makes use of both, the zest and the flesh of the orange. Simple to make and delicious even a couple of days after (if it lasts that long!).
Look for blood oranges that have dark red skin, that means they will be darker in colour on the inside and have more intense flavour.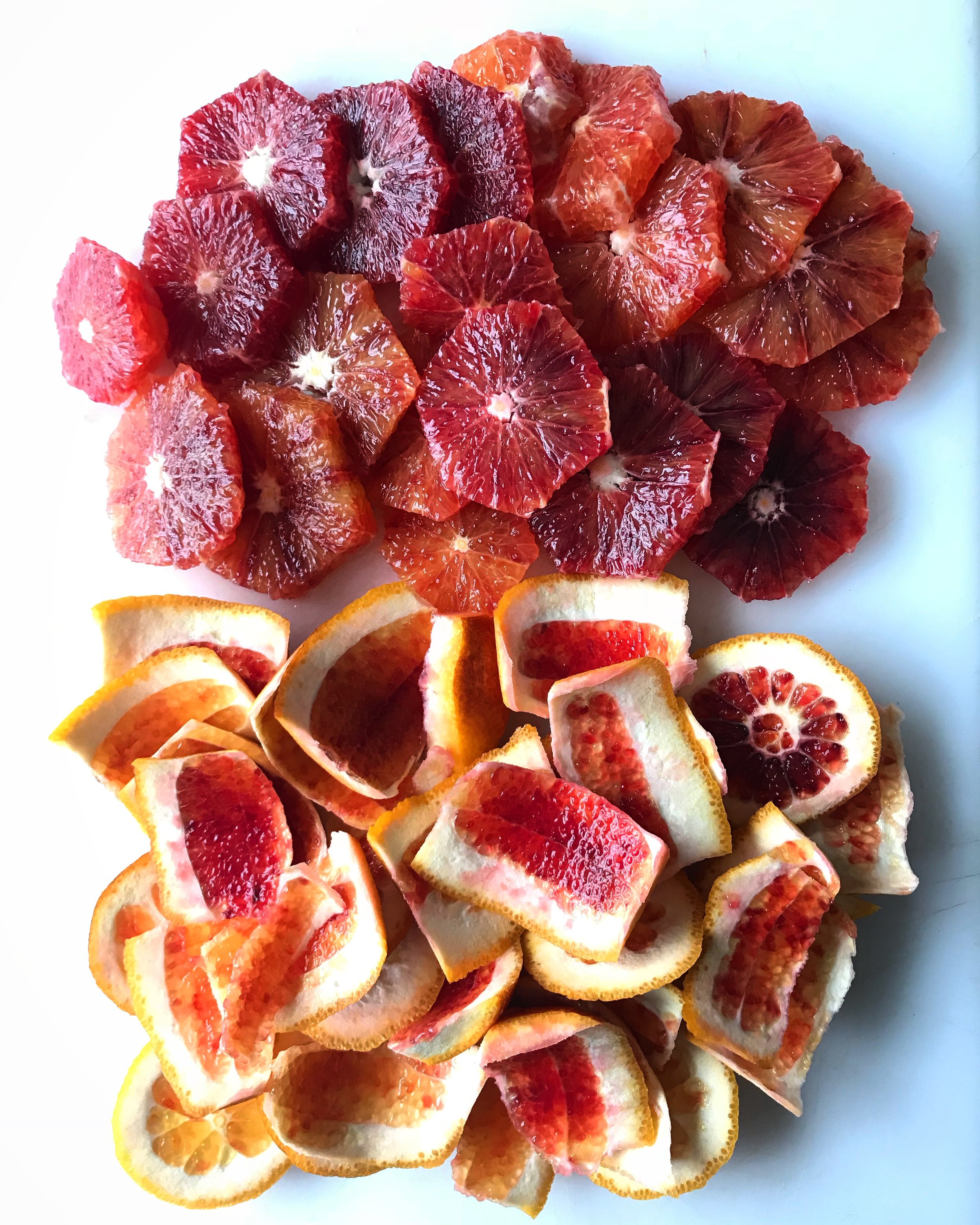 4-5 blood oranges, peeled and sliced thinly
200 grams unsalted butter, room temperature
1 cup sugar
2 cups almond meal (or grind 200 grams of whole almonds in food processor until finely ground - it won't be as fine as store bought, but I prefer it that way)
1/2 cup all purpose flour
1/4 teaspoon salt
2 teaspoons baking powder
3 eggs
1 teaspoon vanilla extract
1/2 cup plain yogurt
zest of 2 blood oranges
zest of 1/2 lemon
Preheat oven to 325 F. Butter well a 9 inch baking pan. Line the bottom of baking pan with sliced oranges, placing them closely together.
In a bowl of electric mixer (or use hand held mixer), cream butter and sugar until pale and fluffy, scraping sides from time to time. Add eggs, one at the time, scraping the sides, then add almond flour, plain flour, salt, baking powder, vanilla, both zests and yogurt. Mix until just combined and pour into prepared orange lined baking pan. Smooth the top and bake for 60 minutes, or until the toothpick inserted in the middle comes out clean.
Let rest in the pan for about 15 minutes, then carefully invert onto serving plate. Let cool before serving.
I served it with freshly whipped cream flavoured with Grand Marnier and a couple of drops of rose water.