ROASTED CAULIFLOWER WITH TAHINI SAUCE, MINT AND NUTS
My family loves cauliflower and I'm always looking for new ways of making it. Roasting it whole not only looks beautiful, but it's a fun way to serve it cut into large wedges. This one has a Middle Eastern vibe and it can easily be a meat substitute - in fact it's so good you won't even miss it!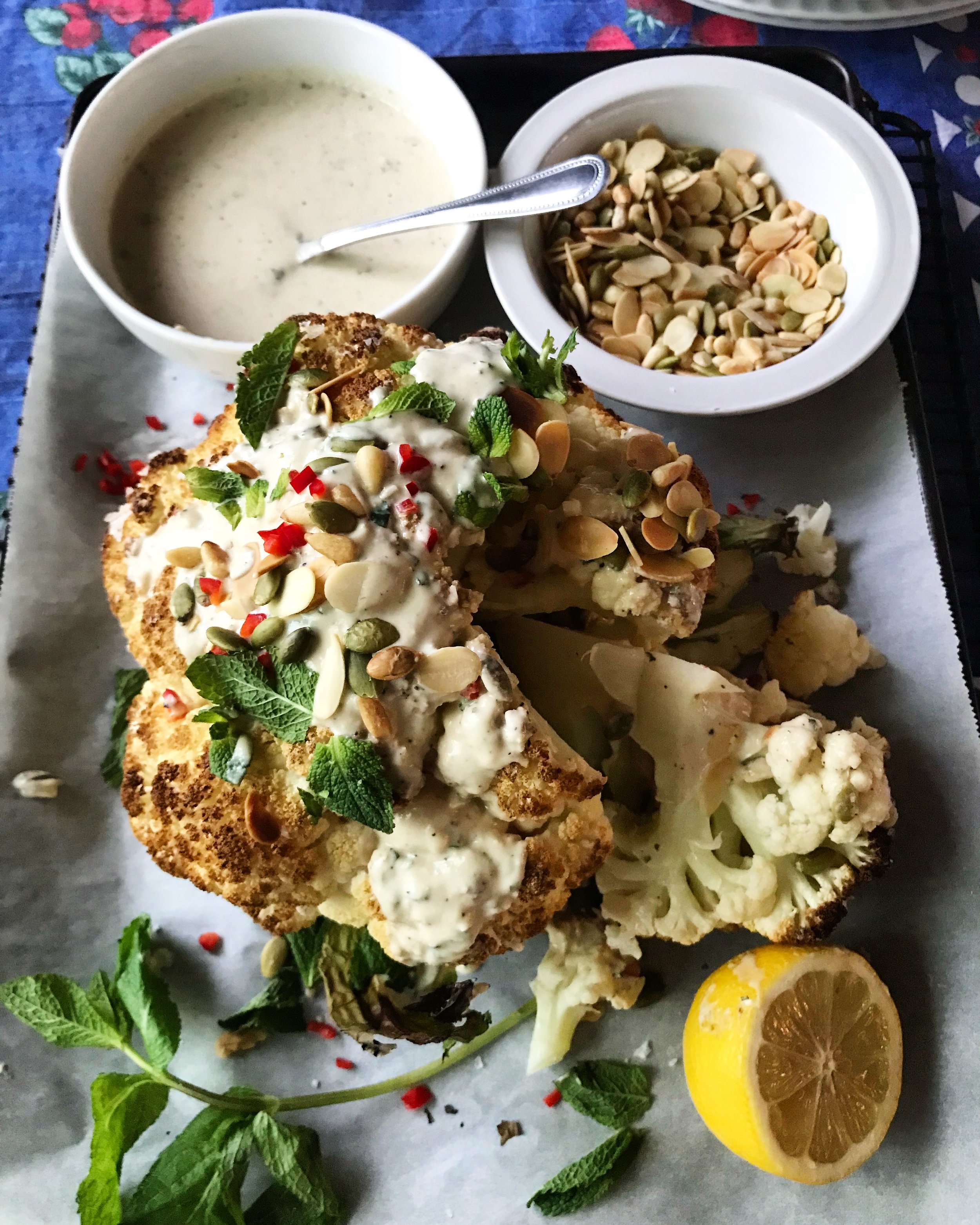 1 large head cauliflower
olive oil
salt
pepper
za'atar
1/2 cup good quality tahini
1 large garlic clove, minced
1 lemon - peel grated, juice squeezed
1/4 cup water, or until tahini becomes smooth
2 tablespoons chopped mint
sunflower seeds, sliced almonds, pine nuts, sesame seeds (one kind or mix of few) - toasted
Preheat the oven to 425F.
Bring a large pot of salted water (enough to hold the whole cauliflower) to boil. Place cauliflower into the pot and cook for 3 to 5 minutes (depending on the size). When ready, drain it and place on parchment lined baking sheet. Drizzle it with olive oil and sprinkle with salt, pepper and za'atar.
Bake for about 30 - 40 minutes, until golden and beginning to crisp (some dark bits are great for flavour!).
Meanwhile, prepare tahini sauce.
In a bowl, mix together tahini with lemon juice and water (a bit of water at the time, depending on your tahini it may take less or more water to make it smooth). At one point it will get to an odd consistency, but keep adding water and mixing until it becomes pale and it smoothes out. At that point, add salt, pepper, lemon zest, garlic and mint. Stir, then taste again and add more lemon or salt if needed.
Place roasted cauliflower on a serving plate, drizzle with good amount of tahini sauce and some olive oil, sprinkle with toasted nuts and fresh mint (I also used some finely chopped red chilli pepper).
Serve sliced into wedges, passing more tahini sauce and nuts on the side.